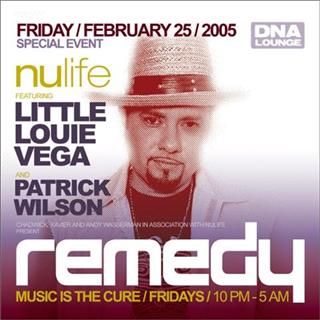 Louie's mix :
Three Kings feat. Jaygun and Bashy - Shake dat booty - Pal Joey interpretation (Coco Machete)
Mr. V - Jus dance - acapella
Mr. V - Jus dance (Vega)
Voices - Voices of freedom (Ministry of Sound)
Mr. V presents Dance Ritual - Somethin' wit Jazz (Sole Channel)
MAW feat. Vikter Duplaix - In the real world (MAW)
Kerri Chandler - Back to the raw (Deeply Rooted House)
Cassio Ware - Move like this
Louie Vega feat. Mr. V - Let's Get Jazzy - ruff mix
Sara Divine - ???
Stephanie Mills- Free
Franck Roger - Olinga (Real Tone)
Tania Maria - Come with me - MAW remix (Concorde)
Osunlade - El musica (Yoruba)
Louie Vega presents Anané - Ma mi mama (Elements of Life Extensions)
???
Eddy Grant - Time warp
Jennifer Lopez - Get right - Louie Vega club mix (Sony)
River Ocean feat. India - Love & Happiness (Strictly Rhythm)
???
Kenny Bobien feat. Ann Nesby - Spread love (Soul Groove)
Sara Devine - Special (Vega)
Diviniti - Love will stay (Women on Wax)
Billy Love - Fly away (West End)
Amel Larrieux - For real
Louie Vega presents Anané feat. Blaze - Amazing love (Vega)
Thievery Corporation feat. David Byrne - The heart is a lonely hunter - Louie Vega remix (Barclay)
MAW - Loud
???
Dinosaure L - Go bang ! (Sleeping Bag)
まだ聞いてないけどヤバそう!!
here